Happy Spring from Williamsburg, VA
It seems like forever since I've had a chance to blog.  The 2018 Academy of Applique was a tremendous success and a good time was had by all.  I thoroughly enjoy Academy week – seeing old friends, and making new.  Although it takes a lot of coordination to align all of the moving parts, it truly is a vacation for me!  Wait until you see who is coming to teach in 2019.
After the Academy, and a short stint in the hospital to have kidney stones removed, I finished my brown and pink Lily Rosenberry quilt – it needed two borders at Academy time.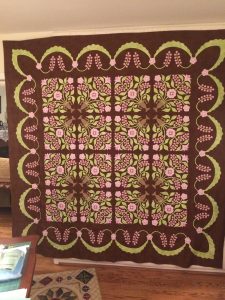 Then I moved on to working on my Ladies of the Sea quilt.  The blocks are all done and rigging embroidered; tons of half square triangles made, borders are completed and thanks to my friend Sharon Noble, the ship names are all machine embroidered as well. All I have left is (3) more Mariner Compass corner blocks .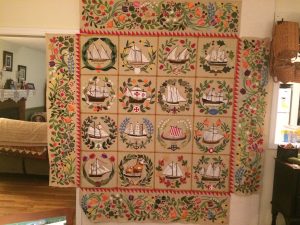 I also finished a baby quilt for my newest grandson Oliver, and an "I Spy" quilt for his older brother Elias.  Enjoy the Grandma "brag" pictures below.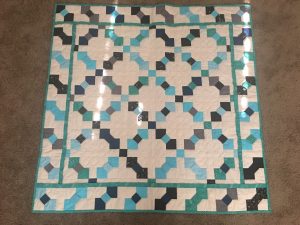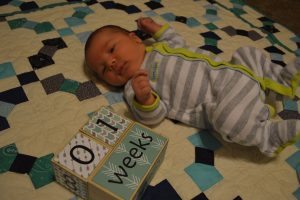 This is a 3D Bowtie quilt.  His father (Jacob) learned to stitch this block when he was about 8 years old – so the pattern has a lot of family significance,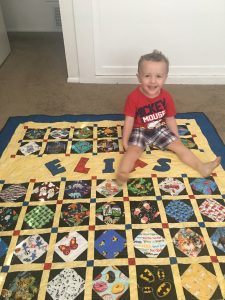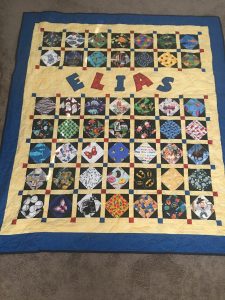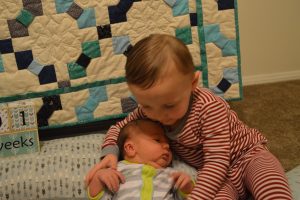 My friend Nancy Swietek and I went to "Spring Market" in Portland. I had never been, but it was almost overwhelming.  We got to see what is new in the quilting world,  met some potential new teachers, and purchased some wonderful books and patterns for the store (Huzzah Quilt Shoppe).  In my spare time I have been working with a Consultant on the HUZZAH QUILT SHOPPE website.  I am thrilled with the progress, and am confident it will be online within the next month.  HUZZAH recently became a Valdani dealer.  We carry EVERY solid color of Valdani's 12 weight cotton thread.  I must admit that getting the inventory was like Christmas!  This thread is beautiful and of the utmost quality.  It is great for wool, or as an embellishment for appliqué.
It didn't seem like I had accomplished much in the 10 weeks since we were together . . . but as I write this, maybe I have completed more that I thought.
Have you signed up for our mailing list?  If not, now is the time.  I am "blasting" out information weekly about the 2019 Academy of Applique teachers and projects.  The Class Catalog will be available August 4, 2018 and registration begins at noon EST, on Labor Day, September 3, 2018.
Keep Stitchin'