As you can see, I am powering thru Sue Garman's Sarah's Revival.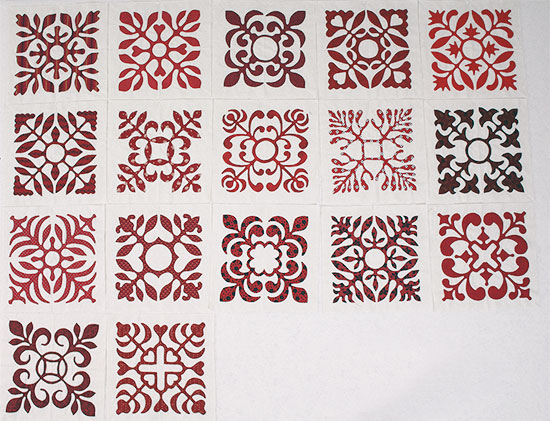 These little papercut blocks are SO much fun and SO addictive.  Sometimes we need "mindless" work like this that give us a sense of accomplishment.    I did prewash these on hot to remove as much "bleeding" as I could. Being a believer in starch, I starched both the red fabric as well as the background – pretty stiff.  Next, I cut out the freezer paper pattern being as careful as possible.  When ironing the freezer paper to the selected red fabric, I AM anal, so I used a 6" x 12" ruler to make sure that the pattern was aligned and that the four quadrants of the pattern were perpendicular.   I traced around the pattern with a white mechanical pencil then I ironed my background squares in half, then half the opposite way, then diagonally.  Aligning the red fabric with the folds ironed into the background fabric came next.  Notice, I haven't cut the piece of red fabric yet.  I gently pinned the red fabric to the background, hand-basted, and used the cut-away method to complete the block (cut a little, stitch a little, cut a little, stitch a little).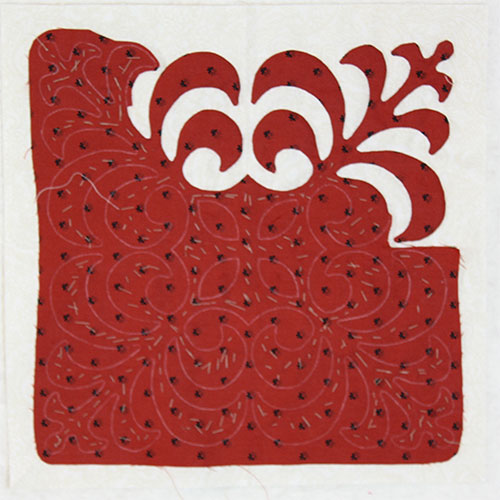 Here is what I REALLY wanted to Blog about.  Nancy Kerns TOTALLY got me into hand basting my blocks.  It doesn't take long, and I think it really makes the blocks lay flatter.  This is how I had been powering along – although working full time (which is REALLY cutting into my personal time, Ha Ha), it does take me almost a whole evening to get a block ready to stitch.    Then a thought hit me.  Why couldn't I baste the block in a grid formation on my sewing machine?  I gently pinned the next block, lengthened my stitch to as long as the machine would allow, loosened my presser foot tension and basted.  True, it only took a couple of minutes.  But, from my experience . . . WHAT A MISTAKE!  As I started my cut-away, there were stitches everywhere I DIDN'T want them to be.  I couldn't get at the pattern edges to cut-away, and spent more time taking stitches out, than stitching.  I finally gave up – removed all basting – and went back to my tried and true Nancy Kerns method.  When you hand baste, you obviously can place the stitches inside the pattern, where you want them. I also like appliqueing a quadrant, removing the basting stitches, and admiring.  Nancy did share that if you keep your "junky" thread available, with needle threaded, for basting , you are more apt to grab the needle and baste.  I am convinced.
I may have "strayed" momentarily from a lapse in judgment . . . but I am back on the "straight and narrow" . . . hand basting.  I felt like Linus in the musical "You're a Good Man, Charlie Brown," trying to leave his blanket. For those of you that know the musical, I am now singing . . . "got you back again!"  I am  totally committed to hand basting!  Thank you Nancy.
Keep Stitchin'
Barbara Blanton
Continue Reading →