HAPPY EASTER!  What a beautiful day it was here in Williamsburg, VA.  The sun was shining, the birds were singing – Spring is in the air.  For me, almost the best part of the day was that the Hallmark channel ran the "Love series" movies by Janette Oake ALL DAY!  What a great day to stitch, and stitch I did.  I decided to put Sarah's Revival aside for a bit as I am having trouble with the corner blocks of the outside border and thought the best thing was to walk away so no one got hurt (Ha Ha).
I stitched this mini Dresden plate since the Academy, for my soon to be fourth grandchild – Elias Gerl – due any minute. I think I will scallop the outside border after it is machine quilted, and bind it in blue.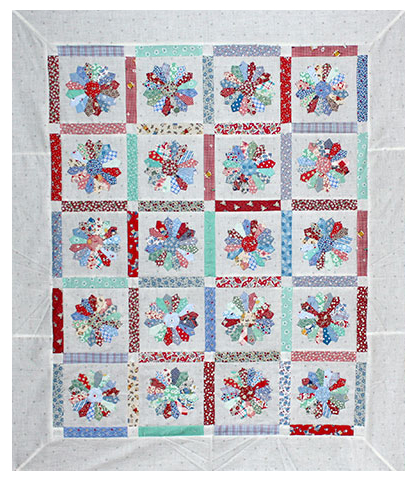 Then I went back to my Lily Rosenberry Quilt (yet another Sue Garman quilt.  Do you see a pattern?  I LOVE her quilts) and am having a ball with the 1200 (or so) berries.  I am stitching this one in red and greens, but can't wait to finish and stitch another in Sue's brown, pinks, and Kelly greens.  It is BEAUTIFUL!  Check out her website, if you haven't had a chance www.comequilt.com.  I wonder if she would share what brown she used.
I am still basking in the glow of the Academy, and with your suggestions and help, am finishing up contracting teachers for the 2016 Academy.  Boy, did you guys have some wonderful suggestions.  Some of the teachers I knew, and some were new to me.  I contacted MANY of them – all of whom were very warm and gracious.  Some were already booked for 2016 (but the Academy put in a reservation for 2017), and some are going to join us immediately.  I can't wait to review their conceptual class descriptions, and am getting excited to get to know them better.  Wait until you see the "staff!"
Some upcoming dates that you will not want to miss are:
April 15 – The teaching staff for the 2016 Academy will be posted on the website  www.academyofapplique.com
August 8 – The classes for the 2016 Academy will be posted on the website
September 6 – Registration Opens
Keep watching your emails and the website, as we will post a "SPECIAL" soon for those that bring either a new Appliquer and/or an attendee new to the Academy.  And remember, I am always available if you have questions, comments, or just want to chat Barbara@Academyofapplique.com or (757) 565-5299.
Keep stitchin'
Barbara
Continue Reading →