Blessed Memorial Day to our extended Appliqué family who served, are serving, or have family members that served or are serving our great country.  Regardless of your political views currently or previously; regardless of your views on the current war or previous wars – I respect and am grateful for those that were called or felt the calling to serve and protect our freedoms.  It is true that "Freedom isn't free."  Thank you for your service!
As you can see below, I use any and every excuse to hang the bunting.  I love the house all decorated up.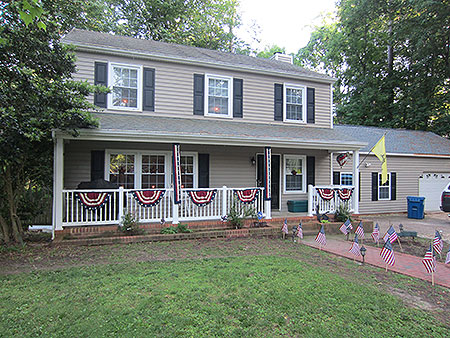 Having (3) days off of work, I forged forward with the Lily Rosenberry quilt by Sue Garman.  I will show pictures in a couple of weeks when I hope to have the top complete.  I even took an EPP (English Paper Piecing) class from my good friend Lee Wallingford during my time off.  She is definitely a pro and had lots of tips and tricks.  Inspired by Judy Severson's quilts, I can't wait to combine EPP with appliqué.
Just a couple of thoughts on the Academy:  I hope you are as excited as I about the 2016 Academy of Appliqué!  I hope we are able to offer MANY styles of appliqué, as well as many techniques.  We cater to the absolute beginner, the skill builder student, as well as the advanced student.  We have projects from Baltimore, to whimsical, to wool.  The class "schedule" will be posted on August 1, 2015 and registration will begin at noon (Eastern time) on Labor Day, September 7th.  If you are receiving this blast via your personal email account, then we have you registered to receive updates and a countdown to registration.  If you are reading this blast via a social media (Facebook, etc.), please go to the website www.academyofapplique.com at your earliest convenience and register to receive personal updates (if you have not already done so).  You will not want to miss out on our 4th of July discount special!  For those that have not had a chance to attend the Academy – when registration opens, some classes WILL fill within an hour.  MARK YOUR CALENDARS!
Enjoy the beautiful Spring weather!
Keep stitchin'
Continue Reading →