I feel like I have been on the road forever; and I LOVE IT!  In April my friend Nancy S. and I went on the ultimate "road trip."  We took a 2.000+ mile trip thru West Virginia; Amish Berlin, Ohio; Amish Shipshewana, Indiana; Shaker Village in Lexington, Kentucky; then back thru Virginia to Williamsburg.    I think we added up about (31) visits to quilt shops.  Our only rule was that we were not going to drive freeways, but take back roads only.  WHAT A TRIP!!   I loved it, loved it, loved it.  What beautiful country we saw, and fun excursions we had.  Here are a few pictures:
Then Nancy S. and I flew to Kansas City, MO to look at venues for our new venture AN APPLIQUE GETAWAY.  Again we put tons of miles on a rental car going back and forth between Missouri and Kansas.  Our daily morning conversation was:  What quilt stores are we going to visit today? And How many meals can we get in today?  Does it get any better?  We found some WONDERFUL quilt stores and DELICIOUS food!  One rainy night we decided to go to the show and saw the movie "Pom."  If you haven't seen it, for those that are my age and older, treat yourself!  I might suggest you get ready to laugh until you pee!
After being home for (4) days, I left for California to spend a week with Jacob (my youngest), his lovely wife Jennifer and the (2) grandsons (Elias, 4 and Oliver, 1).  Of course, we went to Disneyland and then Pirates Adventure Dinner Theater.  WE HAD A BALL!  Elias and Oliver even dressed as pirates for the evening.  It goes without saying that I visited quilt stores, also.  Fun was had by all!!!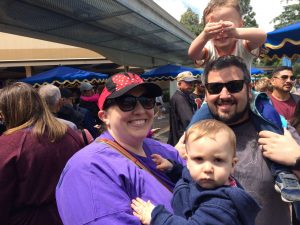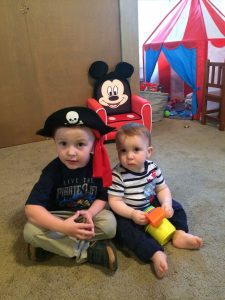 Home again for another (4) days and I was off to spend a long day in Chantilly, VA (outside Washington, DC) at the Quilters Unlimited Quilt Show.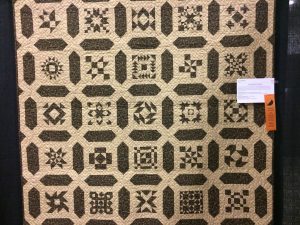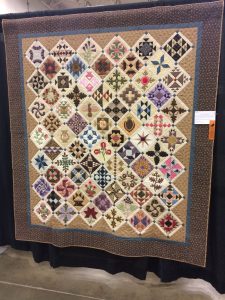 Home now, for a couple of weeks, I am teaching locally; working on the Academy of Applique catalog to be available August 3, 2019; stitching; and filling orders for HUZZAH QUILT SHOPPE.  A busy life, but a very fulfilling one.  I would LOVE to teach more . . . so . . . if you have a Guild or local quilt shop that would like to host an amazing appliqué teacher (if I do say do myself), I offer beginning as well as advanced classes; and will go ANYWHERE, literally.  Please feel free to pass on my name and contact information.
Enjoy the summer weather, and for now . . .
Keep Stitchin'
Continue Reading →