HAPPY 4TH OF JULY!  A day when we celebrate our nation's independence.  It occurs to me that a relatively small group of men, with passion and commitment for their cause, ultimately convinced a nation to follow their lead.  How impressive is that!  And how similar to us (The Academy of Applique) a relatively small group of women with passion and commitment for our cause; that of practicing and spreading the love of appliqué.
Ever since my boys were little, I was known as "The Quilt Lady."  I think I have worked with more classrooms (in school and church) sharing my passion of quilting, than fireworks celebrating the 4th.  Sharing the history of this art form, and watching the pride in the students upon their completion of a "handmade" project; gave me hope for the future of this generation.  I LOVED working with the kids (and now have a greater respect for actual teachers).  Kids from the "immediate gratification" and "the world owes me" generation, opened their minds, if only for a bit, to the values of a previous generation.  How wonderful!  Do you have a similar past?
And then, at some point, I found appliqué.  This offered another layer of the art form for me.  It is ANYTHING but "immediate gratification," but I love the hand work.  I love feeling that I am creative (although I use commercial patterns), I love the process, and I love the feeling of pride upon completion.  I talk constantly about what project I just finished, what project I am going to start, and what project I would ultimately like to accomplish.  I talk about teachers, designers, and hero appliqué'rs.  Those that know me, at work or at play, know that I am an Appliquér.  Do you share the same credentials and your passion for this art form?
To keep this passion, commitment, and art form alive . . .and in honor of the 4th of July . . .  the Academy of Appliqué offers this "SPECIAL:" Invite, coerce, drag a new attendee to the Academy of Appliqué in historic Williamsburg in 2016 and receive $50.00 off of both your and the new attendee's tuition.   I am convinced that once they experience the Academy, and see your works as well as those of our nationally known teachers . . . they will be hooked.  The goal is to increase the number of followers to our cause and art form – appliqué.   This can be ANYONE that did not attend the Academy this year (2015).  The offer is valid for main academy classes, or Add-A-Day classes.  The offer can be "stacked" – if you invite two new attendees you will receive $100.00 off of your tuition, and each of the new attendees will receive a tuition reduction of $50.00 each.
Help spread the word!  And again, Happy 4th of July!
Currently in Progress..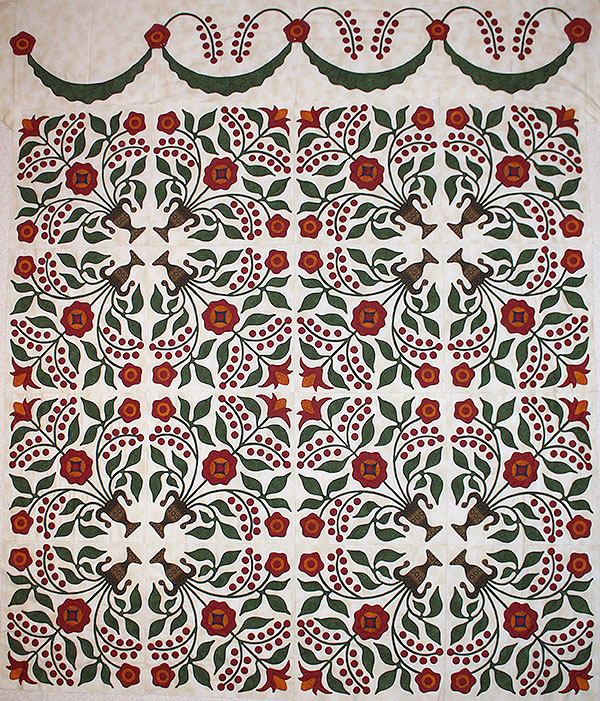 Keep Stitchin'
Barbara Blanton
Continue Reading →