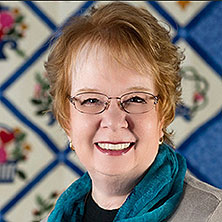 1. When you get an hour all to yourself what do you do?
This time of year, I love to get a glass of iced tea and just sit on the screened porch and look at magazines.
2. What does your family think about your quilting business?
This summer I was inducted into The Quilters Hall of Fame and all of my family was there. I found out that they were very impressed by "the community of quilters" that came to celebrate with me. It was fabulous to hear both my sons mention that when they spoke at the dinner.
3. What big project are you working on now or next, and do you have pictures?
My big project for the last year was getting ready for The Quilters Hall of Fame. I put together an exhibit of my quilts and an exhibit of my students' quilts….I was amazed at how much work that took! Right now I am getting ready to start my year-long Baltimore class….I have 50 students and it's going to be a fun year!
4.  What is on your "bucket" list? 
What do you want to be known/remembered for?I want to be remembered for getting quilters started on their applique journey, teaching the basics of several techniques, so they can make the quilts they dream about!My bucket list….I would love to reproduce a classic applique quilt that's not a Baltimore quilt….and I think it's going to happen!
5.  Where do you get your quilting/appliqué inspiration?
I live in Baltimore, Maryland and am always inspired by the Baltimore Album Quilts.
Continue Reading →