At the 2016 Academy of Applique we offered a tour incorrectly named the "Museums of Colonial Williamsburg."   The correct name is a "Tour of the Textile Storage Facility" of Colonial Williamsburg, although it was described correctly in the Class Schedule.  Not knowing what to expect, my local appliqué group coordinated to preview this "tour," if you will, last week for the Academy attendees.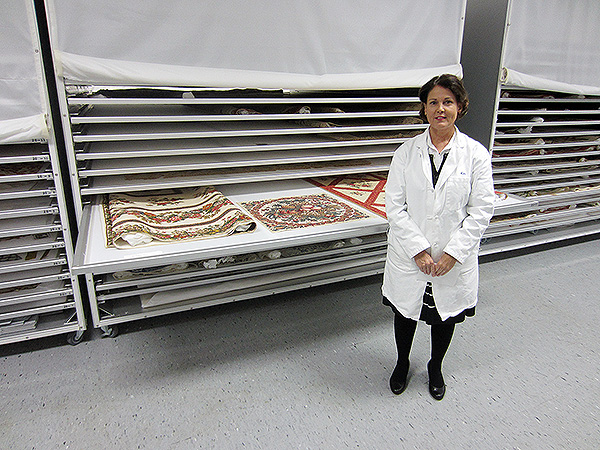 OMG!  What a treat.  Our hostess was Ms. Kim Ivey, one of the two Curators of Textiles and Historic Interiors for the Colonial Williamsburg Foundation.  What a lovely, and knowledgeable lady.  She explained that there are curators (and staff), and conservators (and staff).  The curators are charged with purchasing, researching, and maintaining the safety of the collection.  The conservators are charged with maintaining the condition of the textiles.  About (12) of our group were able to participate – and we spent a most wonderful hour with Kim.
She showed us TONS of textiles (mostly quilts and specifically appliqué and broderie perse, of course) from the 1600's to the 1900's.  With each drawer she pulled out, the room was filled with "oohs," and "aahs" from the group. Kim gladly shared the history of the quilt and the period.   We were allowed to get up close and personal, almost touching some with our noses to see the intricate stitching.  How did our ancestors possibly produce these phenomenal quilts without rotary cutters, light boxes, ott lights, magnifying glasses, etc?  It boggles my mind.  And all the time raising a plethora of children and running a household.  It makes me tired just thinking about it.  Being appliquers ourselves, we had an overwhelming appreciation for their skill and talent; and a lively discussion of style and techniques ensued with each offering.
Because the tour for the 2016 Academy of Applique attendees sold out within hours of registration opening, we have coordinated to offer this tour for many years to come.   Those that will be attending in 2016 WILL NOT BE DISAPPOINTED.  It is definitely an opportunity that should be experienced by all in future years.
Continue Reading →