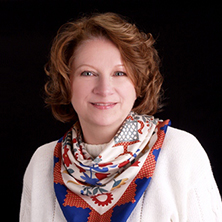 1. When you get an hour all to yourself what do you do?
That's easy! Hand appliqué, of course! Now, give me a day all to myself, and you will find me basting a top and hand quilting. There are many quilts waiting for completion!
2. What does your family think about your quilting business?
My husband, Ed is totally supportive. He helps with the technology I use to teach appliqué and quilting. Students love the overhead camera projected behind me. It allows every student to see what I am sewing almost as if they are looking through my eyes, and when I "Zoom," extreme close-ups are better than I can see with my own eyes. My sister is also a quilter, but she does not appliqué, so she is happy to have some quilts I have made. The rest of the family is just glad to know I am enjoying life.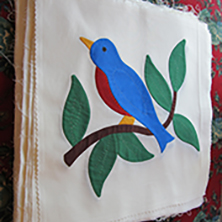 3. What big project are you working on now or next, and do you have pictures?
These embroidered bluebird blocks were sewn when I was maybe 5 years old with my grandmother. It is about time to get them quilted, don't you think?
Up next is a set of appliquéd bluebirds, waiting "in the wings" for me to hand quilt. A vintage 1940s quilt in an antique booth caught my eye, but I could not afford it at the time. So, when "Quiltmaker" magazine offered the pattern, I had to make it! Mine will have some lovely feather wreaths quilted in alternate blocks.
4. What is on your "bucket" list?
Retirement from "9-to-5" is coming soon! Maybe another book? Design more patterns? There will lots to do, appliqué samples to sew, and workshops to teach! Appliqué and hand-pieced blocks and tops of all shapes and sizes wait "in the wings" wondering what they will become someday. So many, I think my "bucket" runneth over!
What do you want to be known/remembered for?
At a quilt show I attended sometime in the 1970s, a lady was demonstrating hand quilting and she invited me to give it a try. She so patiently taught this beginner how to hold the needle and quilt with a rocking stitch. Her name was Carole Blankenbeckler. I have never forgotten her kindness and patience. I have been truly honored to attend workshops with many wonderful teachers. Every one of them taught me something useful, and I think that is something worth being remembered for.
5. Where do you get your quilting/appliqué inspiration?
Antique and vintage quilts just make my heart sing. I feel very fortunate to live near Baltimore, especially when the classic antique Baltimore Album quilts are exhibited at the Maryland Historical Society and the Baltimore Museum of Art. One of those exhibits brought about the founding of Baltimore Appliqué Society in 1993 "to preserve antique quilts and promote the art of appliqué." I became a charter member. Being active with BAS programs has provided me a fountain of inspiration and encouragement, as well as many wonderful friendships.
Continue Reading →