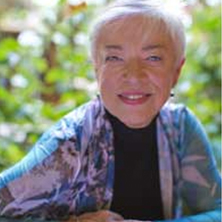 1. When you get an hour all to yourself what do you do? That's an easy question — APPLIQUE!  I also applique when I have 5 or 10 minutes, or 15 or 20, or …well you get the idea.  I am never without an applique project within arm's length.  Because I do needleturn applique, all I need is my quilt top or block, needle, thread, and scissors.  I applique in the car as a passenger, waiting for an appointment, at the airport, on the plane, at the hotel.  I'm obsessed with how relaxing applique relaxes me and the people around me.
2. What does your family think about your quilting business?   They are thrilled that I found something else to obsess about instead of them.  I was a legal secretary for over 20 years, during which time I appliqued as a hobby.  In 2001 I was able to quit that day\ job, and devote my full time to designing, and teaching how to make a traditional Hawaiian quilt, and how I do needleturn applique.   Everyone in my family, and my friends, all agree that I am a nicer person when I have applique to do, and when I get a chance to share those skills and joy with others.
3. What big project are you working on now or next, and do you have pictures?   I am working on two queen size Hawaiian quilts:  the most important one is for my husband and the other is for me.  I designed both of these, and the one for my husband is the hano hano orchid, which grew outside his window as a young boy.  This orchid has a wonderful scent and he sees his wonderful childhood memories in this quilt.  It has taken me 12 years to applique, and I am in year 7 in the quilting process — obviously is doesn't get worked on very often.  Attached is a photo of my husband's orchid quilt, on the day I completed the applique (at the Nashville AQS show-2007).  The one I am making for me uses a hand-painted fabric depicting the profusion of color in vine maple leaves here in the Northwest.  I am sure this will be available for someone else to pick up and get inspired to complete once I am gone (unless I live to be 318).  The photo attached is of a little more than 1/4 of the quilt.

4.  What is on your "bucket" list?  What do you want to be known/remembered for?   I don't have a bucket list.  I just want more time to work on the "important" quilts I still have to do.  I hope I will be remembered as a teacher who inspired others to enjoy hand applique.  In my opinion, it's not about the having (lots of quilts), it's about the doing!  The joy of the making of the quilts far surpasses the joy of having made lots of quilts.  So, hand applique fits right into that — because it isn't fast to make a quilt by hand, but it is fun!
5.  Where do you get your quilting/applique inspiration? For my Hawaiian quilts, Hawaii provides enough inspiration for many lifetimes of quilts.  And where I now live in the Pacific Northwest, and as I travel, there are beautiful flowers/fruits/trees and amazing color combinations that need to be memorialized in a quilt.  …and applique is the way I will do that.
Continue Reading →