The 4th With Sarah's Revival
How was your 4th of July weekend? I was fortunate enough to have my 86 year old mother, and sister visit from California. My mother ( a late blooming quilter – she only started about 20 years ago) and I spent numerous hours discussing quilt patterns and quilting in a frame – which I LOVE doing. It was perfect weather here in Williamsburg, as the hurricane missed us but offered a cool breeze and moderate temperatures. I had ample time to appliqué. Having finished Sue Garman's "Bed of Roses," I am currently working on Sue's "Sarah's Revival." It is approximately (36) paper cut blocks in red and green that are just too fun to stitch. Even with working full time, I can "crank" out 2 – 3 a week. What a sense of accomplishment to see them on the design wall. This is coming together VERY quickly.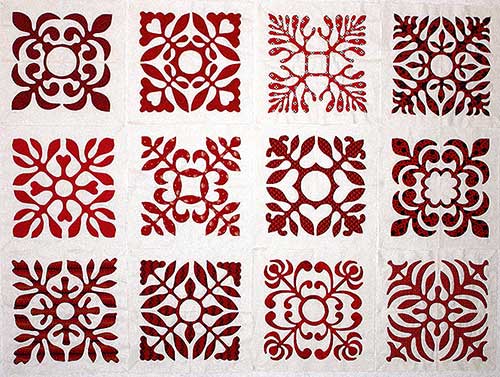 I am currently in the process of mailing out over 13,000 marketing cards to about 500 quilt stores on the Eastern seaboard. What is your favorite store? I will gladly check to make sure they received this material. Do you belong to a guild? If you can email me a contact, I would greatly appreciate the opportunity to send them an ad to be included in your next newsletter. Let's continue spreading the word!
I thought I would write a bit on what to expect when registering for the Academy. First, some important dates: August 9th, 2014 the website will be updated to show the Class Schedule for the 2015 Academy. Class/project pictures, descriptions of techniques taught, supply lists and registration fees will be available on that date. Historically, this has always been an exciting time for me as I read, re-read, and re-re-read the schedule trying to decide which classes I would register for. Then came the emails and phone calls to friends again discussing which classes we would take together, so as to spend more quality bonding time. Some friends I, unfortunately, only get to see once a year at the Academy. Room reservations will be made individually. Don't forget to mention "The Academy of Appliqué" to receive the discounted room rate.
The next important date is Tuesday, September 3, 2014 when registration will open. Registration will be performed on-line and payments will be made thru PayPal. Some have asked what to do if they do not use credit cards. Paypal is a very easy process to set up and can withdraw the agreed amount directly from your checking or savings account.